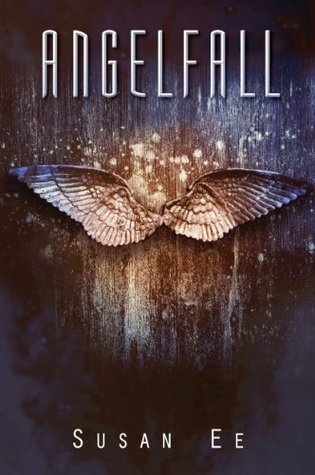 It's been six weeks since the angels of the apocalypse destroyed the world as we know it. Only pockets of humanity remain.
Savage street gangs rule the day while fear and superstition rule the night.
When angels fly away with a helpless girl, her seventeen-year-old sister Penryn will do anything to get her back...
This is a different kind of story than what I am used to. This time the angels are the bad guys, tearing up our world and wreaking havoc on all humans. Thing is, they are even worse than I thought, and we get some pretty nasty surprises nearing the end of the book.
A great apocalypse story, told with a perfect atmosphere where you are never quite safe. There is cynicism leaping off of Penryn in waves, an awful brutality to all of the humans, and a huge amount of fear and distrust. The backdrop of a completely broken world makes it bleak and almost hopeless.
The love story is cute, and completely, inevitably obvious. Nevertheless, I liked that it happened. I liked Penryn and Raffe's relationship; the initial distrust, the constant sniping, the grudging appreciation, the slow acceptance and the underlying attraction. It was all great, and totally by the book. Sometimes I wished it wasn't quite so obvious, but most of the time I didn't care.
This book deals with some big issues too; its not just a love story set in the apocalypse, you know. It makes you think about mental illness, disabilities, religion, humanity and family. It makes you think about how you would respond to all of this. Would you toughen up like Penryn? Would you risk it all to save your family? Would you still essentially be you after a huge otherworldy attack? I certainly thought about these things, and I am still not sure I would have had the guts and courage that Penryn had throughout this book.
Penryn as a character is truly great. She's believeable, still a girl who values her family, but she's had some tough choices to make, and those include leaving her mother to fend for herself. I loved seeing her point of view throughout, and loved how seeing everything through her eyes made it horribly real for me, particularly her thoughts on her mother. I found those thoughts really interesting, and scary if my predictions are correct.
Speaking of scary, there are some pretty nasty things happening in this world, as well as a lot of mysterious involving angel politics. All of that was really intriguing, so I can't wait to read the next book and find out more. The book left me with a lot of questions, but the ones that bug me are these: Why was Raffe attacked in the first place, really? What they heck did they do with those things that are eating people? What do the Nephilim look like? What happened to the angel's wives? Are those demon wings, or something worse?
Oh, so many questions.
Overall, this was a great book that I found extremely difficult to put down. The story was told in perfect detail and was ideal for a YA audience. I can definitely see this one being optioned for a film, and being made into a great one.
4.5/5
Angelfall on Goodreads
Kyrax