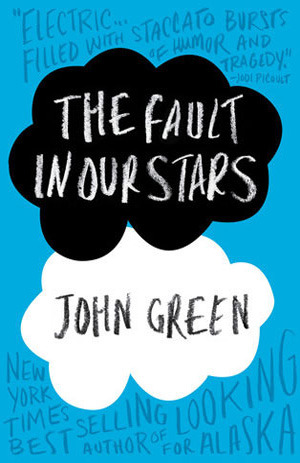 Despite the tumor-shrinking medical miracle that has bought her a few years, Hazel has never been anything but terminal, her final chapter inscribed upon diagnosis. But when a gorgeous plot twist named Augustus Waters suddenly appears at Cancer Kid Support Group, Hazel's story is about to be completely rewritten.
Having first seen the film of this book, I have to say that I am very impressed with the way that there theme and the characters were dealt with. The filming was gorgeous, the casting was very good, and all in all it was an enjoyable film. Therefore, my feelings about this book may be slightly marred by the film, which honestly had me doing an Alice and creating a pool of tears in my room.
This is a great book. It is wonderfully realistic, idealistic and yet completely brutal, because it does that one thing that many people are afraid to do; it tells the absolute truth. Well, in fact, it is the character, Hazel, that tells us the truth, in a very honest, open way that probably scares people.
So this is a story about cancer. A funny, sad, romantic, odd and stunning story of life, death, love and what might happen after. You can learn so much from this book, and take away so many sentiments you never knew you wanted to think about. This books surprises you, horrifies you and beguiles you in equal measure, from the lyrical, poignant wording to the inevitable ending.
Amazingly, the film has reflected all these things and more. While some things have been changed, the identity of the story stays the same. The only difference, I feel, is that Hazel is actually a lot funnier in the book, perhaps because we know precisely what she is thinking and feeling.
This is a short book, an easy read, but not actually a young adult, as perhaps some might suggest. Instead, it should be described as a New Adult book, for ages above 16, I would say. It deals with some really heavy content that younger children may find difficult to deal with.
Great read, but actually I think I prefer the film simply based on the fact I had more feels, and in the book I knew what was going to happen!
4.5 / 5
The Fault In Our Stars on Goodreads
Kyrax