This month has been crazy, with a brand new job to contend with my rather large reading habit. I've also been trying to balance my social life out once more, and admittedly not having much luck at all with that. Never mind. Anyway, so this month I bought too many books and said yes to too many books. I have a huge reading pile so I have stopped accepting review requests for the moment so that I can actually read something I've bought myself. The Gospel of Loki from my birthday in May is still sitting, untouched on my bookshelf. It. Will. Get. Read... Eventually.
Anyway, here's my hoarde this month. Not a huge one, thank God, but big enough:
Bought:
The Luxe/ Rumours - Anna Godbersen
I'm a sucker for covers with pretty dresses, so when I saw these two in a charity shop for £2 each, I had to snap them up. These books deal with high American society in 1899 and is full of scandal, intrigue and beautiful people. Its historical fiction in quite an unusual setting for me and I cant wait to read it!
The Immortal Circus: Final Act - A.R. Kahler
I saw this in a Kindle Daily Deal, and since I loved the first two books in the series I had to buy it. The Immortal Circus is a modern day fairytale set around a travelling circus owned by the dark fairy queen, Mab.
The Grimm Legacy - Polly Shulman
Anoher Daily Deal, and something I've been eyeing up for a little while. Although this may seem like another fairytale retelling, it is actually all about the artifacts in those fairytales and about how someone is stealing them. It sounds good to me!
We Were Liars - E. Lockhart
This ebook was a steal online at 99p, and since every blogger on earth seems to love it, I thought I would give it a go. I was a little bit skeptical about this book, because everyone seems to like it so much and I tend to get dissappointed in books with so much hype. Lets hope not!
Borrowed:
The Thirteenth Tale - Diane Setterfield
This book has been reccommended to me twice now, and since the author is a friend of a friend, I am fully invested in this. I actually gave in and saw the TV adaptation, because Sophie Turner (Sansa in Game of Thrones) is in it, and I loved the story, so I'd love to see how well it has been handled.
Before I Go To Sleep - S.J. Watson
The film of this is coming out soon, and seeing the trailer actually prompted me to pick this up. I have had it on the shelf for a while but never really fancied it. Now I am totally intrigued as to what happens.
Requested:
Dead Girl Walking - Ruth Silver
A princess who gets murdered has the chance to become a grim reaper, what's not to love? I am very much looking forward to reading this.
Won:
Frostbitten - Heather West
Competitions are the best, and I was pleasantly surprised when I won an ebook of this. It's a paranromal YA read with a nice sprnkling of romance, and it sounds pretty awesome to me!
Review requests:
REHO
Aliens, nuclear war and finding the truth about the world's origins, intriguing stuff.
Prompossible
The companion book to Prom Impossible, this time told from the boys point of view. Should be interesting!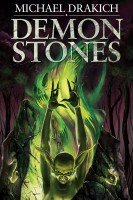 Demon Stones
A world where demons have been released to roam the land? Sounds awesome.
Majra
The blurb to this book is kind of confusing, and I sense that there is a lot going on in this fantasy.
Twisted Reflections
The sequel to Dangerous Reflections, a teen time travel that I adored reading. Eeek! So excited.
Thank you's this month go to:
My sister and my boyfriend's mum for allowing me to borrow their books!
YABound Tours
D.L. Denham
Laura Pauling
Michael Drakich
J. Simon
Booktrope - Pamela Labbe and Shay West
Kyrax